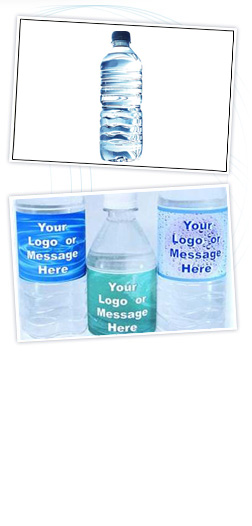 CUSTOM WATER BOTTLE LABELS
Put your own logo and/or artwork on the best bottled water available! We offer a custom labeling program using your own graphics, logo, and/or photo. A design service is available to create something unique just for you. These can be used on our distilled personal size water bottles we supply or anything else you may need a custom label for.
Specializing in small orders, custom labeled bottled water is a great way to promote your business, school, fund raiser or yourself. Custom labeling helps identify your product and/or service and leaves a positive impression on your customer. Use as office handouts, client appreciation, promotional events, or favors. Incorporate coupons to entice more business. Sell advertising label space to partnering businesses for a profit! Why sell someone else's water when you can sell your own. Put your name out there in a way that is as unique and refreshing as our water.
Fundraisers
Business Identity
Banquets
Office Parties
Promotions
Picnics and Reunions
Weddings
Anniversaries
School Events
Client Appreciation
Each case comes with 24 - 16.9 oz bottles.
10+ Cases - $0.75 per bottle
4-9 Cases - $0.85 per bottle
1-3 Cases - $1.00 per bottle
NOTE: Prices are for up to 50% label coverage.
F.O.B. Water Store
Price includes custom label using your artwork submitted in a digital format. Additional design work is available from our professional graphics department. There is a one-time set up/design fee of $30.00.